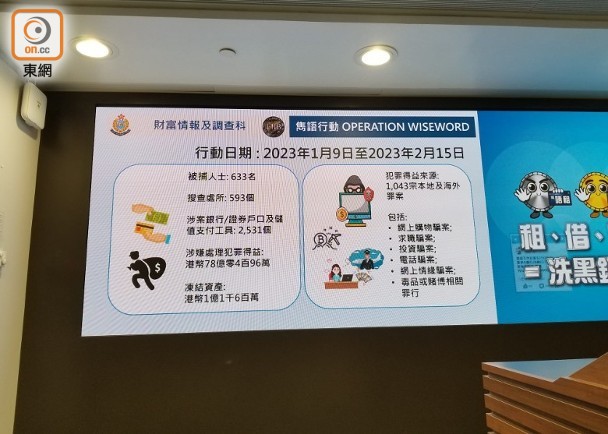 Cooperating with the "Anti-Money Laundering Month", the law enforcement agencies launched a large-scale arrest operation code-named "Jun Yu" from January 9 to February 15. They raided 593 premises in various districts in Hong Kong, including residential and commercial buildings, and arrested 416 men and 217 women, a total of 633 people (aged 18 to 78), including 13 mainland men, 8 mainland women, 3 foreign men, 10 non-Chinese men and 26 non-Chinese women, were suspected of "conspiracy to defraud", " money laundering" and "inciting others to commit money laundering" etc.
The entire arrest operation involved about 1,043 fraud cases, including online shopping scams, job hunting scams, investment scams, phone scams and online love scams. Some cases even involved drug or gambling-related crimes. The relevant criminal group used more than 2,531 bank accounts, securities accounts and stored value facilities to launder suspected criminal proceeds of about HK$7.80496 billion.
During the operation, multiple securities and bank accounts were frozen, involving assets of about 116 million Hong Kong dollars. Officers also seized a large number of exhibits, including bank documents, ATM cards, mobile phones, computers and other valuables.
Original URL: https://hk.on.cc/hk/bkn/cnt/news/20230217/bkn-20230217150448012-0217_00822_001.html