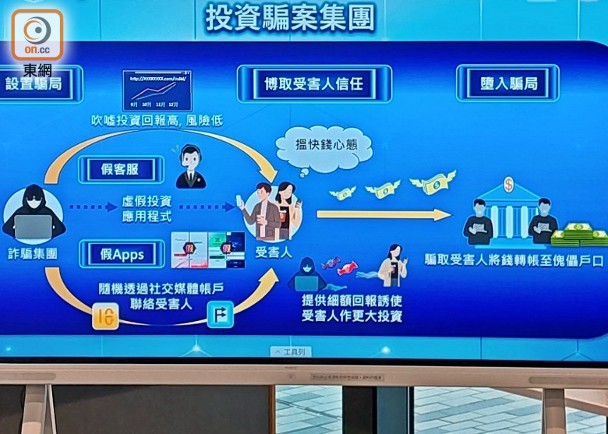 Hong Kong's lack of security has turned it into a "fraud haven", and online fraud cases continue to occur. From the 5th to the 11th of this month, law enforcement agencies launched Operation "Drill Front" to combat online investment fraud. A total of 223 people were arrested during the operation, including 157 men and 66 women. They were suspected of committing crimes such as "obtaining property by deception", "fraud" and "money laundering". They were aged between 18 and 69. Most of the arrested people were puppets. The account holder provides the account to assist the fraud group in handling the proceeds of crime. There were 265 cases involving a total amount of HK$180 million. During the operation, approximately HK$3 million in criminal proceeds were successfully frozen, and a large number of mobile phones, bank documents, and ATM cards were seized.
Investigations revealed that the fraud group used "low risk, high returns" as a solicitation on social platforms to attract victims to invest, and instructed the victims to install fake investment applications. Some scammers will give victims a small amount of return in the early stages of investment, tricking the victims into investing more money and then losing contact.
There were 328 victims in the case, including 143 men and 185 women, ranging in age from 19 to 80 years old. The fraud group mainly targeted people between 20 and 40 years old who had financial ability and were active on social platforms. The female victim in one of the cases was an 80-year-old engineer who once worked as an elevator designer. When she was renting a property online, she met a scammer who claimed to be a senior digital asset analyst at a bank and introduced a virtual currency investment website for investment. In the early stage, the victim mistakenly believed that the website had a profit of more than 100,000 yuan. Unexpectedly, it was fraudulently deposited and invested more than 40 times, and was eventually defrauded of more than 9.1 million Hong Kong dollars.
Original URL: https://hk.on.cc/hk/bkn/cnt/news/20231112/bkn-20231112110032212-1112_00822_001.html