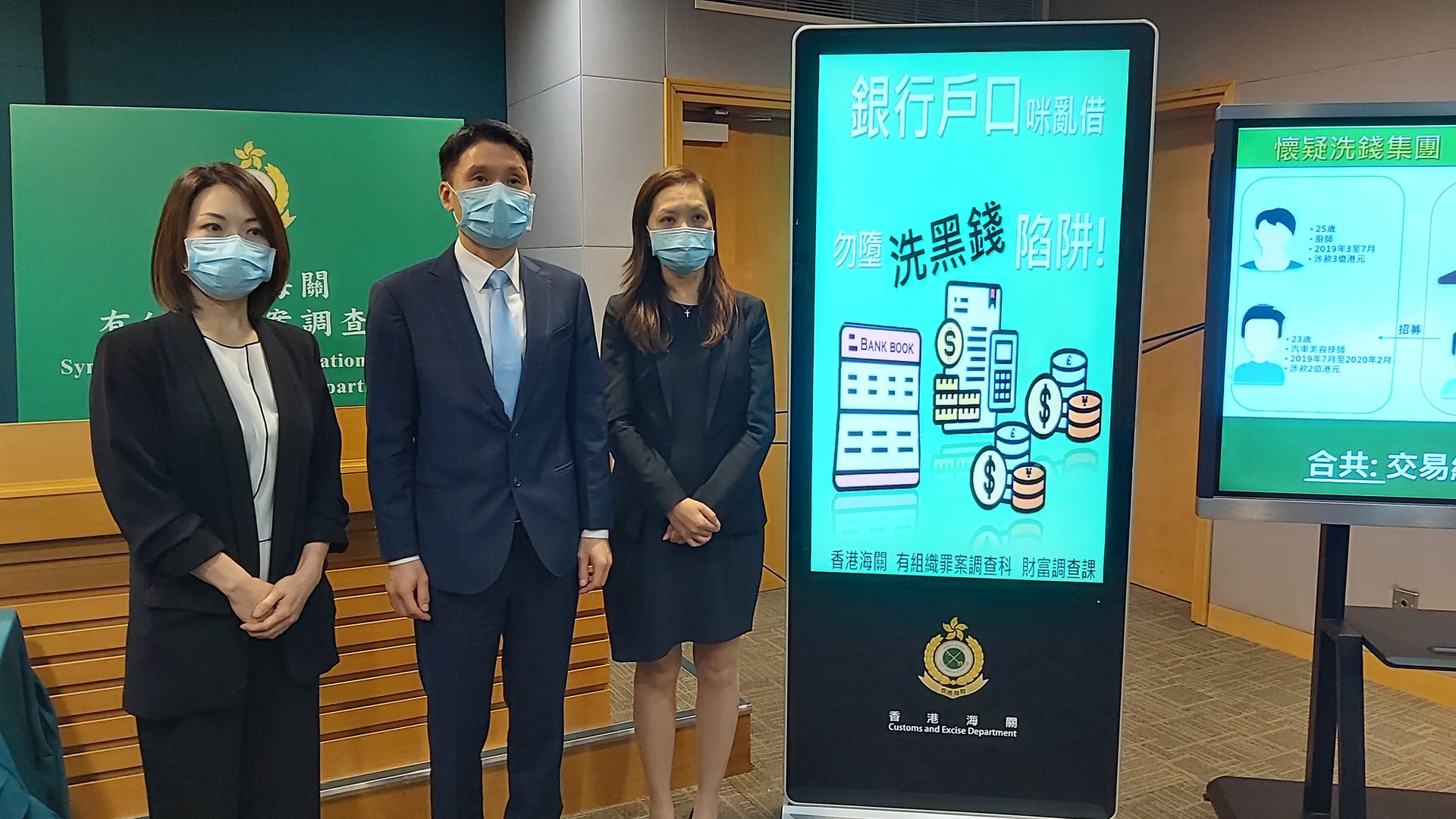 The customs dismantled a family-style money laundering syndicate. A family of three, headed by the mother, manipulated the operation of the syndicate and recruited members. From January 2018 to February 2020, a total of 59 personal accounts were used to process payments involving more than 2,600 suspicious transactions, involving up to 2.5 billion yuan.
From April 15 to 19, the Marine Corps took the "Shadow Hunting II" operation for five consecutive days and arrested 5 men and 1 woman involved in the case in Tai Po and Yuen Long, aged between 23 and 50.
Deng Huiyan, Supervisor of the Wealth Investigation Section of the Organized Crime Investigation Bureau, said that in mid-2019, the Customs received intelligence that there were a number of unusual and large transactions in the personal bank accounts of two 23- and 25-year-old men in a short period of time. Related to money laundering. The 25-year-old man reported that he was a chef and had a monthly income of $14,000. In March 2019, he opened four personal bank accounts at two banks and processed a large number of large transactions in four months, involving more than 300 million yuan. One of the payments is as high as 22 million yuan. Since the amount of funds in his bank account does not correspond to his income, his account operation was suspended by the bank in July 2019.
On the day the 25-year-old man was suspended by the bank, another 23-year-old man immediately opened 9 personal accounts in the same bank and processed more than 200 million yuan in 7 months. The 23-year-old man reported to be a car beauty technician with a monthly income of $17,000. Because his personal financial situation was not commensurate with the transaction, his bank account was suspended in February 2020.
The customs believed that the bank accounts of the two men were used by the money laundering syndicate and found a common deposit and withdrawal person. According to investigations, the depositor and withdrawal person is a 36-year-old man who reported as a money changer driver with a monthly income of $17,000. He opened 12 personal accounts in 8 banks and used multiple accounts to collect money in a short period of time. , Processing a total of 600 million payments in 14 months.
The customs targeted the three men mentioned above and took the "Shadow Hunting II" operation on April 15. They mobilized 30 Wealth Investigation Division officers to raided three houses in Tai Po, arrested three men aged 23 to 36, and seized their mobile phones. , Bank Internet Banking Security Code, monthly bank statements, registration documents of multiple companies, IOUs, cheque books and company transfer documents not belonging to the arrested but signed as evidence.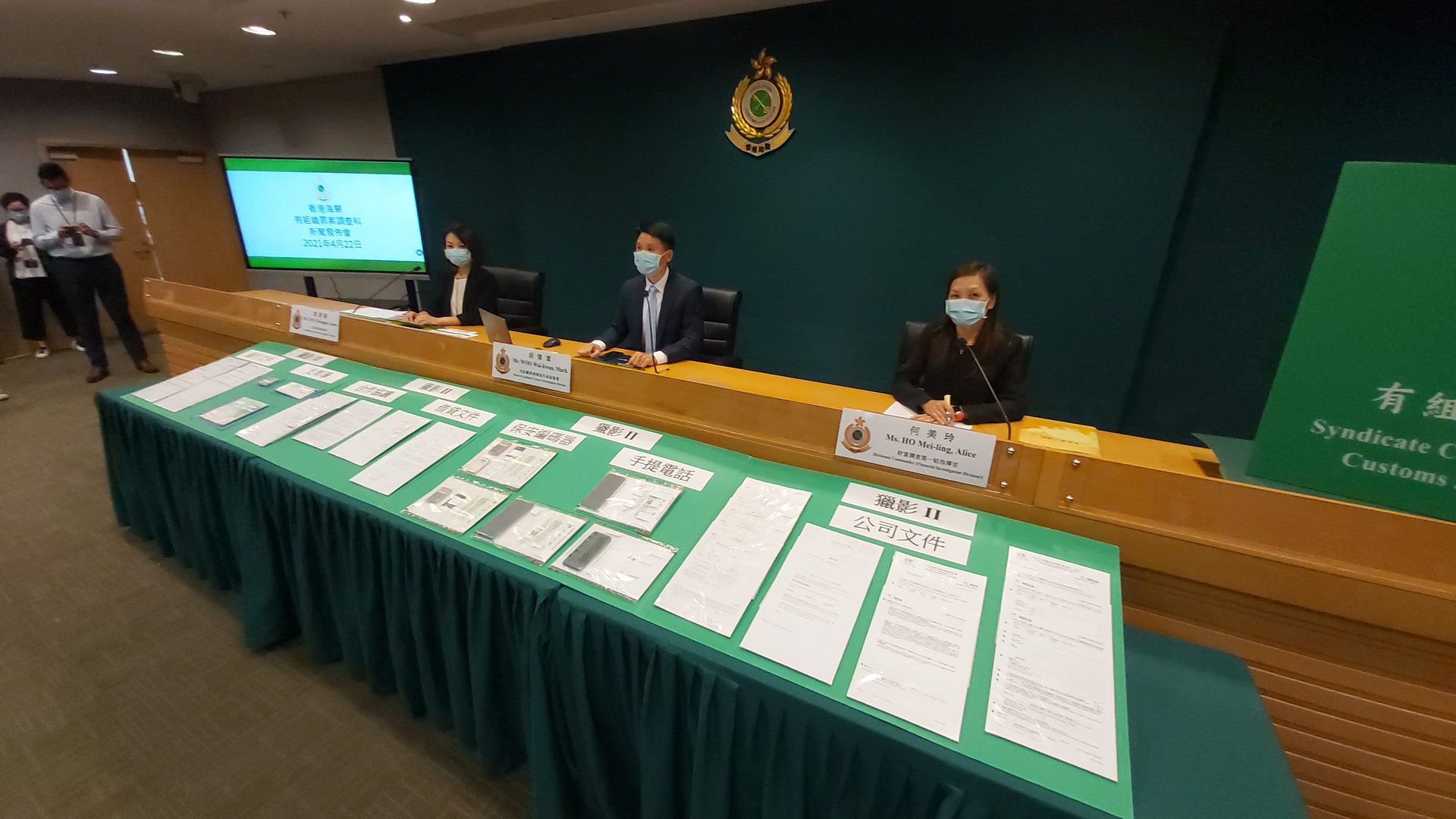 Family-style money laundering group a family of three processed 1.4 billion yuan
The staff of the Wealth Investigation Division immediately analyzed the data and grasped that the money laundering group was manipulated by a three-person family. They were responsible for controlling the operation of the group and recruiting members. On the evening of April 15, the officers covered a residential unit in Yuen Long and arrested 2 men and 1 woman, a 50-year-old father, a 48-year-old mother and a 23-year-old son.
The investigation revealed that the 23-year-old son involved in the case was responsible for soliciting friends around him to carry out money laundering activities. One of the arrested youths had known friends for many years and then recruited another arrested person through a friend's introduction. The 23-year-old son reported as a catering manager with a monthly income of $15,000. He has 12 personal bank accounts. From January 2018 to August 2019, he handled more than 200 million items. From 2018 to early 19, his parents also handled a number of large-scale fund transactions through their bank accounts. The father involved 100 million yuan and the mother involved up to 1.1 billion yuan.
The 48-year-old mother is the authorized person of a money changer, which opened in 2018 and will close after the license expires in November 2020. The arrested money changer driver is her former employee, and the two have known each other for many years. Senior Supervisor of the Organized Crime Investigation Bureau, Hu Weijun, believes that the arrested person used a money changer to work conveniently, establish a human-economic relationship, and borrow the account to deal with funds of unknown origin. The 48-year-old mother worked for another money changer that was suspended for a 3.4 billion money laundering case. The customs is investigating whether the two cases are related.
According to the investigation, the six arrested persons opened 59 bank accounts and processed funds involving more than 2,600 suspicious transactions, of which more than half of the transaction deposits came from shell companies. Hu Weijun added that the arrested persons have no assets in Hong Kong, and their personal accounts only have a small amount of deposits, but they continue to have large amounts of funds in and out of the accounts in a short period of time, which is a common method of money laundering.
He Meiling, the commander of the first group of the Wealth Investigation of the Organized Crime Investigation Bureau, said that he noticed that some criminals used social network platforms and communication software to solicit "jobs" and "quick money", and borrowed other people's bank accounts to help deal with the unknown. Projects of origin are suspected of being used for money laundering. For example, He Meiling claimed that criminals claimed to recruit "highly paid data entry workers without experience" and "work flexibly and work at home" to attract housewives, and they would use "no principal, immediate pay", "short-term wealth", " "Work more, earn more" in order to attract citizens who want to get quick money or need cash turnover. The above recruitment never mentions the nature of the job. When someone inquires about the job, the criminals will ask the staff to submit the personal bank account based on the need of the job. Account information and password, and arrange to the bank for transfer and withdrawal.
He Meiling reminds the public to understand the nature of the job when choosing a job, and do not disclose personal bank account information and passwords to others in order to process transactions from unknown sources.
The Customs emphasized that the use of personal bank accounts to process money from unknown sources, regardless of whether monetary rewards are involved, has the opportunity to commit money laundering crimes. According to the Organized and Serious Crimes Ordinance, anyone who knows or has reasonable grounds to believe that any property, whether in whole or in part, directly or indirectly, represents the benefit of an indictable crime and still handles the property, that is Is a crime. Once convicted, the maximum penalty is a fine of HK$5 million and imprisonment for 14 years, and the proceeds of related crimes can also be confiscated.
source: HK01