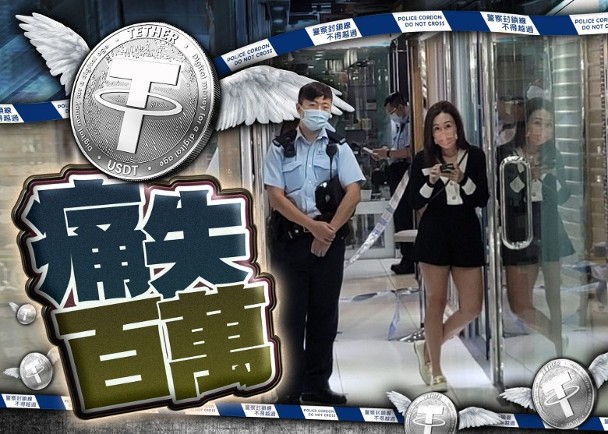 A virtual currency theft occurred in Tsim Sha Tsui. At 1:11 this afternoon (4th), a male businessman named Cai (30 years old) who opened a company in Tsim Sha Tsui and specialized in virtual currency trading, with the same surname Xu (30 years old) male staff and a surname Zheng ( The 26 -year -old) female employee, a virtual currency exchange exchange at the Chongqing Station Shopping Mall 36 to 44 of Nathan Road, traded with a male buyer. The buyer later appeared, obtained the connection of the relevant virtual currency transactions from the three people, and claimed that he had to get cash to pay at the staff room of the exchange, and then locked the glass main entrance of the exchange before entering the staff room.
After the buyer, the buyer also locked the door after entering the staff room, and fled the scene from the back door. Three men and women were locked in the exchange. After learning that they were deceived, they immediately called another male staff member of Zhang (30 years old). Solving difficulties, at the same time, it was found that the virtual currency worth about 1.5 million Hong Kong dollars in the account was transferred away, so the police asked for help. Police officers were reported to be present, blocking the virtual currency exchanges involved in the case, and watched closed -circuit TV videos in the mall's entrance and exit to trace the whereabouts involved. The case was listed as theft, and the criminal investigation team of the oil -tip police area followed up.
It is understood that Zheng Nu had traded virtual currencies with scammers earlier. Only because the transaction was successfully completed, today's transactions were available. The original trading of the two parties was worth about 4.5 million Hong Kong dollars, but Cai Nan transferred about HK $ 1.5 million to the buyer's hukou in order to prevent loss. After the other party paid the entire amount, the entire transaction was completed. Unexpectedly, he was still deceived. The virtual currency exchanges involved in the incident were opened for about one month. There were non -plug -in -free banknote machines and a tablet computer without information. When the scammers claimed that when they entered the staff room to withdraw money, they called "one thousand mosquito paper", and there were other people in the room to reduce the prestige of the victim.
Source: ON.CC