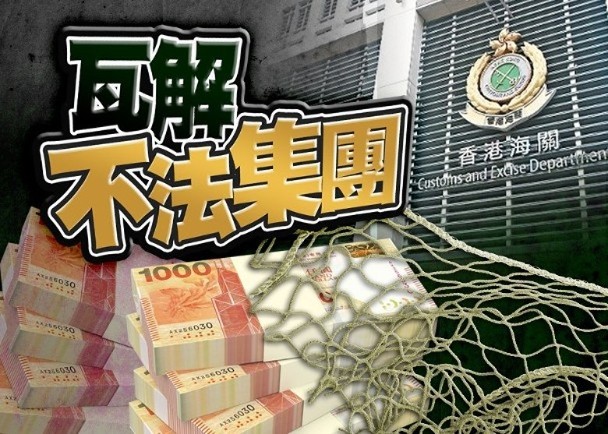 At the end of 2021, Hong Kong Customs locked down a suspected money laundering group. After a wealth investigation, it launched an operation code-named "Eagle Net" on the 28th of last month, arresting 2 male and 2 female (32-54 years old) key members of the group. From February to March this year, through a number of local bank accounts under his name, he received funds from about 440 third-party bank accounts and about 40 company accounts, and deposited a total of HK$550 million from unknown sources. It was transferred to more than 200 third-party personal accounts and more than ten accounts held by shell companies, and some of the funds are believed to be transferred back to the mainland through 2 licensed money changers in the local area. The largest transaction involved was HK$3 million.
Chen Jingwei, commander of the wealth investigation team of the Organised Crime Investigation Bureau of the Customs, pointed out that the arrested men and women also received virtual currency equivalent to 50 million yuan through a virtual currency trading platform at a similar time. Transfer the U.S. dollars from virtual currency sales back to your local bank account, and then convert them into Hong Kong dollars and transfer them away. Customs found that the arrested men and women processed over 600 million Hong Kong dollars in transactions through their personal accounts within 25 months, which was not commensurate with the monthly income and financial situation declared by each person. Some people also take advantage of the high concealment of virtual currency and transfer funds between the accounts of arrested men and women multiple times to hide the source and flow of funds.
Inspector Li Bingru of the Wealth Investigation Division of the Organised Crime Investigation Division of the Customs said that on the day of the operation, the Customs dispatched more than 40 officers of the wealth investigation division to search the residences of the arrested men and women, the offices of several companies and 2 licensed search engines in Kwun Tong and Cheung Sha Wan. Changed stores, seized a large number of mobile phones, computers, bank security devices, monthly statements, cheque books, company registration documents and seals and other exhibits. At the same time, a total of HK$1.7 million in assets under the names of the arrested persons was frozen. The Department of Justice will be consulted later The Customs will also further investigate the source and flow of the funds, and it is not ruled out that more people will be arrested.
Source: ON.CC