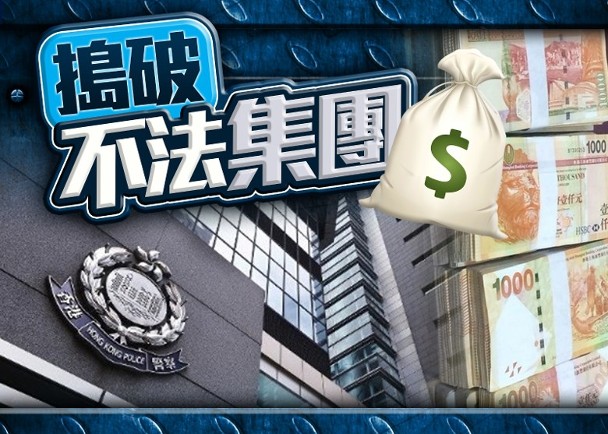 Officers from the Financial Intelligence and Investigation Division of the Police, through intelligence analysis and tracking the flow of funds in fraud cases, discovered that a local criminal group had deposited at least 40 suspected criminal proceeds of fraud cases in two years starting from January 2020. into at least 136 local bank puppet accounts, and the relevant funds will be transferred through bank transfers and deposited into the accounts of key members of the criminal group, thus laundering more than 2.5 billion Hong Kong dollars in black money.
According to the investigation, the group has been recruiting puppets to open bank accounts with benefits of about HK$1,000 to 2,500 per account since 2020, and asked the other party to hand over the account's online login information, password and bank card, etc., before applying for jobs. , telephone, investment and other types of fraud to deceive the victim. According to the instructions of the fraudsters, the victims deposited the funds into the puppet accounts controlled by the criminal syndicate, which involved at least 40 fraudulent cases between April 2021 and January this year, involving a total of more than HK$50 million. When criminal groups use their accounts to collect money, they will go through multiple bank transfers to evade the investigation by law enforcement officers, and then transfer the funds to the bank accounts of key members, thereby laundering money. Bank ATMs to withdraw suspected criminal proceeds in excess of millions of Hong Kong dollars.
The police launched an arrest operation code-named "War Thunder" from yesterday (7th) and searched various places in Hong Kong, Kowloon and the New Territories. A total of 15 men and 1 woman (19 to 56 years old) were arrested, including 7 key members of the group and 9 puppet accounts. The holders, who reported occupations including computer technicians, construction workers, cleaners, transport workers, etc., were charged with "conspiracy to launder money" and "money laundering". The police believe that the operation has dismantled the criminal group, all arrested persons have been detained and the operation continues, and more arrests cannot be ruled out.
Source: ON.CC